Celebration & Commitment
Dear Friends of Oxbow,
In my first year as Head of School, I have been privileged to witness the tenacity and resilience that comes from living through a year of tragedy and turmoil that has impacted all of our lives. While we are living in unpredictable times, I want to extend my heartfelt "thank you" for sharing confidence in our mission and values. It is an honor to celebrate the Oxbow legacy with you. It is for this reason that we should give pause to acknowledge the many gifts we have been given during this year of hardship in celebration of Oxbow as a leading school of excellence:
We met full capacity with 2 summer camp sessions and 2 semesters to bring our academic year to a successful conclusion.
We welcomed lively visiting artists in residence—Robin Hill, Anneli Henriksson, Eric Veit—to work directly with our students in the studios along the riverside.
We collaborated with the Napa Railroad Arts District to introduce international muralist, ELLE, to our campus where she gave our students a personal tutorial on mural painting.
We hosted a successful art college portfolio day, an event that draws top art colleges from across the country to review our students' work.
We partnered with the di Rosa Center for Contemporary Art and renowned artist Arleene Coreea Valencia to launch the first community mural art project centered around the theme of "resilience."
The Oxbow faculty seamlessly pivoted to a distance learning model for our spring students after evacuating the campus due to the pandemic. At home, students rose to the occasion to create stellar final projects based on a topic of their own choosing.
In support of the Black Lives Matter movement, the faculty and staff made a commitment to implement an anti-racist curriculum, build an inclusive culture, and revise our policies moving forward.
We engaged in the preliminary planning necessary to renovate campus facilities and began work towards improvement of select buildings.
We held our first "Anti-Event" event, a playful parody of the traditional extravagant gala.
Despite the inability to hold previously scheduled regional gatherings across the country this past spring, we met and exceeded our fundraising goals for the year!
In response to the need for engaging high quality arts education we have launched a series of online courses and on campus workshops for this fall.
We have developed a unique model for students interested in gap programming and have opened this option up to Alumni.
As we celebrate this year of success, we must stay focused on the realities of what the future will bring, for undoubtedly we will need to lean on each other during these unprecedented times. As stewards for equitable arts education, we are directly transforming the lives of young people. Through your support, Oxbow students leave the program as visionary leaders and thriving members of their community. Thank you for making a difference in their lives! I look forward to a continued partnership with you.
With deep gratitude,
Jennifer Jordan, Head of School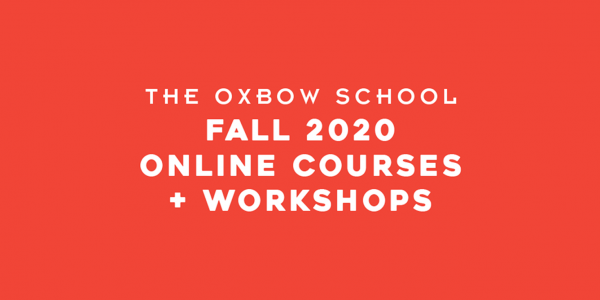 New Programming
The Oxbow School is excited to announce the launch of two-week Online Courses and three-day On Campus Workshops! These courses and workshops will give students the opportunity to participate in innovative art and academic experiences. The On Campus Workshops are for students of all ages 13+. Parents, educators, and friends, this is your chance to have the Oxbow experience!
All Online Course participants will receive a certificate of completion for each course they complete. Students interested in receiving a full semester of credit can take four or more online courses or three or more three-day weekend workshops.
Please visit the Course Offerings page to view course descriptions and details.
To register, please visit the Registration page, make your selections, and submit payment. We will reach out to each registrant to confirm details and collect any additional information we may need. Space is limited!
Questions? email us at: admissions@oxbowschool.org
Impact
I am writing to share the impact working with the Oxbow School has made on the Walker Art Center and its youth constituents - not to mention the impact that it has had on me personally. I wanted to share this information both in a show of gratitude and to communicate the position of leadership and uniqueness Oxbow holds in the field of alternative education to future staff and partners.
Through the generosity of Oxbow's founder, Ann Hatch, the Walker is able to send a member of our Teen Arts Council to Oxbow on a scholarship each year. Last year, I stayed in touch with the student we sent during her time there. It was incredible to listen to her share about her new friends, her connection to her teachers, and the complex works she was making in the studio. Before Oxbow, she had been quiet and reserved. Oxbow's impact is visible in the way she now carries herself with confidence. She shared that before and during Oxbow people would tell her that she is bright and will be very accomplished - she said that she didn't believe it until Oxbow.
I feel that this newfound confidence comes from Oxbow's holistic approach to student support. Teachers meet students where they're at and treat them with respect. The former Head of School, Stephen Thomas, explained to me that all Oxbow class discussions on a new topic start with asking the students what they already know about the topic. This approach impacts students deeply in that they are seen as contributors and their prior life experience is valued in the classroom space. This inquiry based approach is considered a best practice in the field of Arts Education because student centered approaches lead to the greatest ability to learn lifelong skills in leadership, and problem solving. Oxbow extends this outside the classroom into an immersive experience where the whole day- not just class time - is dedicated to student growth. I learned this first hand as a participant in the Oxbow summer program in 2008. All of the camp staff modeled how to engage with others as a fearless version of themselves. I gained skills in storytelling and learned about artists that continue to inspire me today. The conversations we had made me feel taken seriously as an individual and an artist - and these advances in my own self-awareness and learning happened in as little as two weeks.
I share all of this to say that Oxbow's reach extends beyond the Napa Valley and stays with people years after their time there. Walker Art Center Youth Programs is proud to partner with Oxbow to provide students with education dedicated to support and growth.
With thanks,
Simona Zappas
Youth Programs Coordinator Walker Art Center
"I've changed more than I could have ever imagined. It actually blows my mind. I feel like I'm a different person in a lot of ways. At Oxbow, I was forced to face challenges, ideas, relationships, and assignments that felt very unfamiliar and uncomfortable; and because of that, I have become a much more independent, driven, confident person who doesn't hesitate to ask for help. I also feel I have become much more aware of the outside world, of life away from home, and that has made me just much more aware. It made me realize who I really wanted to be in this world, and what place I want to fill...Oxbow made me a much more resilient and confident person, especially when it comes to figuring out my place in the world." —Amalia, Spring 2020
OS3 – Willow O'Feral
Willow O'Feral's feature film SISTERS RISING premiered at the Big Sky Documentary Film Festival in Feb 2020. SISTERS RISING is about six Native American women fighting to restore personal and tribal sovereignty in the face of ongoing sexual violence against Indigenous women in the United States.
OS23 – Joseph Gonzalez
After graduating with his BFA in toy design from the Fashion Institute of Technology, Joseph freelanced for a several toy companies and was recently was hired full time as toy and accessories designer at Culturefly in NYC. Additionally, he was just accepted to Art Education graduate program at the City College of New York. His portfolio can be found here.
OS24 – Kira Dane
In 2019, Kira was selected as one of the fellows for Sundance Institute's Ignite Fellowship. The same year, she co-directed a short animated documentary called Mizuko, which was produced with a grant and support from Tribeca Film Institute after winning a pitching competition as part of the If/Then Shorts Program. The film was selected to play at IDFA, SXSW, and GLAS Animation film festivals (and won Special Jury Awards at all three!) and is continuing its festival run. The film is slated to play at Atlanta Film Festival, ACT Human Rights Film Festival, and Docaviv in 2020.
APPLY NOW - Online, Workshops, Gap and Semester!!
We are still accepting applications for the Spring 2021 semester as well as accepting registrations for Fall 2020 programming in the form of Online Courses and On Campus Workshops!
Send us your Alumni News!
We want to hear from our alumni so submit your news online via our website. Let us know about your projects, travels, volunteer work, teaching/internship experiences, college news, exhibitions, screenings, interviews, publications, etc. Make sure we have your latest contact information so we can stay in touch.
Follow us!
For weekly updates, live demos, and virtual artist lectures.
Support Oxbow!
Any amount large or small makes a huge difference in the lives of young people! Please consider giving and helping Oxbow in continuing to offer students life changing opportunities.