AROUND THE BEND - JUNE 2021
In Celebration of Summer
Dear Oxbow Friends,
As the jasmine vines bloom towards the sky, the apricots drop to the ground in glorious plumpness, and the figs begin to ripen, we are experiencing our own version of "More than Enough" on the Oxbow campus. All senses are awakening in unison to provide perfect context for an exciting announcement -- We are open for the summer! After a long year of closure due to the pandemic, cheerful students arrived this past weekend for an immersive 8-week summer program on the Oxbow campus. The Summer Art Institute, a residency for young artists, is a new endeavor for us and is already proving to be a resounding success. After a few days of orientation, there is great joy permeating all corners of the campus as we forge meaningful relationships with new people from across the country. I am very grateful for the Oxbow faculty and staff for turning what was once a mere concept in the abstract into an inspiring new reality.
This morning marks the launch of official programming as students embark on their first elective course that includes options from farming and food, narrative and the figure, biking the country roads, textile design, meditations in clay, and animation. The community will gather together on the back deck for a beautifully prepared feast featuring Indian cuisine -- tikka masala, cauliflower curry, saag paneer -- with matcha green tea cookies for dessert. Students will participate in fun-filled residential activities in the afternoon, followed by an evening of art-making in the studios to include a combine in painting/sculpture, relief printing using wood blocks, and experimental video.
Joining us this summer are several new faculty members who played an instrumental role in shaping the bones of the Summer Art Institute. The Oxbow community extends a warm welcome to Jules Johnston, Wayan Buschman, Amy Zhang, Anela Oh, and Annie Duncan, all of whom are dedicated to mentoring our emerging artists on site this summer.
We are so grateful for your support and hope to see you on our campus soon. Stay tuned for updates next month!
Warm regards,
Jennifer Jordan
Head of School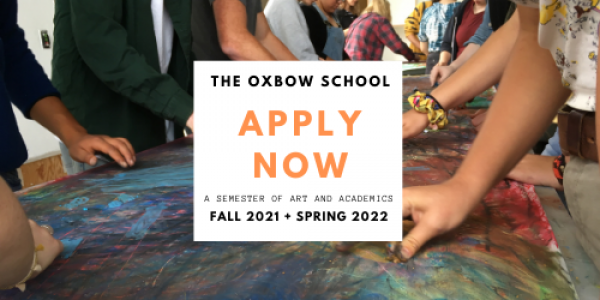 APPLY NOW!
The Oxbow School is now in rolling admissions and will continue to accept Semester and Gap applications for the Fall 2021 and Spring 2022 semesters.

Students interested in the Fall 2021 + Spring 2022 semesters should try to complete all parts of their application ASAP (in the next few weeks). We will continue to accept applications until both semesters are fully enrolled. APPLY NOW!

NEW GAP SEMESTER PROGRAM
The Oxbow School is now offering a one of a kind Gap Semester! A small cohort of post-graduate students will have the opportunity to live and study at The Oxbow School. Selected students will propose and execute multi-disciplinary projects of their own design.

Email us at admissions@oxbowschool.org to request an individual virtual zoom Q&A!

NEW OXBOW FACULTY INTRODUCTIONS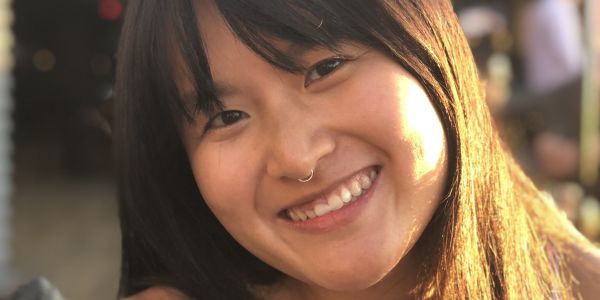 Amy Zhang
Amy (pronouns she/her) is originally from Changsha, China and joined the Oxbow faculty team in 2021. Amy relocated to Colorado Springs for high school where she was introduced to and fell in love with the Rocky Mountains. After earning a BFA in Art from Whitman College, she returned to the Pikes Peak region where she worked at an independent school and the Fine Arts Center at Colorado College. This past year Amy worked for another semester school in Colorado as the Kitchen and Wilderness fellow, where she led various outdoor expeditions and taught cooking. She brings a life-long passion for food and the art of cooking. Amy is excited to teach electives exploring the relation of food, history and identity.
Anela Oh
Anela Ming-Yue Oh (she/her) is a multidisciplinary artist in love with curry and the ocean. She holds a BFA in Studio Art from the School of the Museum of Fine Arts at Tufts University and has recently started a term serving on the board of Hand Papermaking inc. Her art practice is deeply grounded in a sense of community and sharing her skills with others through playful experimentation and collaboration. She uses materials that have a life of their own such as clay, paper, and fiber to feed her studio practice and create environments full of color and texture. As a mixed race artist of Malaysian Chinese descent, she utilizes imagery, colors, textures, and smells from her cultural heritage to pay homage to the work of her ancestors as she builds new worlds and futures.Her work aims to inspire a sense of hope and proposes visions of a future that includes marginalized voices by choosing to take a joyful and playful approach while discussing immigrant histories. She recently finished a term as the Artist in Residence at Sonoma Ceramics culminating in a solo show and will be be the West Bay View Fellow at Dieu Donné studio in Brooklyn this fall.
Annie Duncan
Annie Duncan (she/her) is a painter, printmaker, and educator from the Bay Area, where the light and colors of the landscape have always inspired her. In her work, she navigates the liminal space between her everyday life and her memories. She is interested in moments—created by objects, spaces, people—which she attempts to distill and articulate on canvas. Her work explores subjects like intimacy, nostalgia, femininity, and personhood. In addition to being a Teaching Artist in Residence this summer at Oxbow, Annie is an Emerging Fellow at Gallery Route One in Point Reyes Station, CA. She received a BA from Vassar College in 2019, and will be pursuing in MFA at California College of the Arts this fall.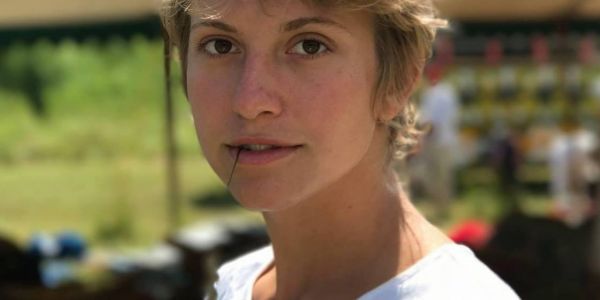 Julianna Johnston
Julianna is an interdisciplinary artist and arts educator working between new media and performance studies. Their work explores how experience can be curated, documented, and mediated through digital interfaces and oscillates in its final form between video, installation, performance, virtual reality, and public workshop. Julianna's new media course at The Oxbow School stresses experimentation and curiosity in playful yet critical exploration of image making, storytelling, and media circulation within a contemporary arts context. Alongside artistic research students will develop their artistic voice through collaborative projects and medium explorations.
Originally from Baltimore, Maryland USA, Julianna received a BFA in Sculpture from the Rhode Island School of Design in 2018. They have spent time making and dancing with the Bread and Puppet Theater, Gob Squad Collective, Crosstown Arts Residency, Vermont Studio Center, and DOGO Residenz für Neue Kunst, and have shown works throughout the US and abroad.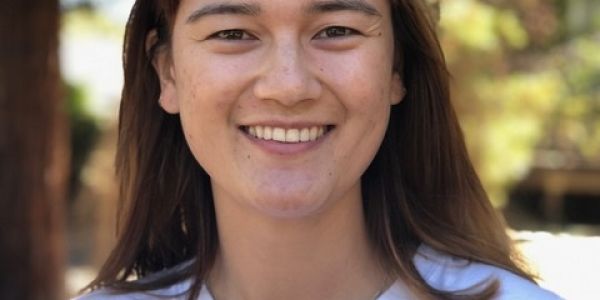 Wayan Buschman
Wayan (pronounced "why-ON") was born and raised in New York City, a place she thought unmatchable in height and grandeur until she visited Leadville, Colorado. There, at age 16, she attended the High Mountain Institute where she fell in love with both the semester school model and the Rockies. It follows that she enrolled at Colorado College. After graduating with a degree in English literature, she returned to the High Mountain Institute, this time as the English teaching apprentice. Now, Wayan is thrilled to teach humanities at Oxbow. She hopes to share with students her love for books as art pieces, cultural items, and vessels for our own stories and those of others.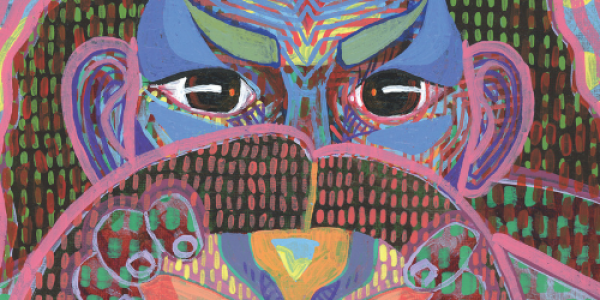 Make a difference today!
Thanks to our generous supporters, we are only $25,000 away from meeting our fundraising goal for this fiscal year. There's still time to reach our goal before June 30th. All donations in the next two weeks will be reserved for scholarships going to BIPOC and LGBTQIA+ applicants in need. Make a difference for an Oxbow student today!
Send us your Alumni News!
We want to hear from our alumni so submit your news online via our website. Let us know about your projects, travels, volunteer work, teaching/internship experiences, college news, exhibitions, screenings, interviews, publications, etc. Make sure we have your latest contact information so we can stay in touch.
"At Oxbow, my hunger to learn everything grew. I felt a burning passion for art, but I learned that my art was more powerful when it was informed by research and academic studies. Now as I study art, I also am exploring computer science and agriculture. At Kenyon, I continually think, talk, and connect with Oxbow alumni and faculty. I feel comfort knowing that I had a place and community I felt I truly belonged in. It gives me hope that I can find and build communities like that wherever I go." - Jill Noorily, Spring 2019
Follow us!
For weekly updates, live demos, and virtual artist lectures.