AROUND THE BEND - MARCH 2021
Looking Towards the Future
Dear Oxbow Friends,
I have been doing a lot of driving lately -- across the country and back again -- luxuriating in extended periods of gazing out the window into the horizon. Being in a liminal state allowed my body to relax for the first time in a long while and my mind to slowly unfurl with nowhere to be but there in that present moment. The comfort of a moving cocoon with no time commitment created the much longed for time and space to reflect on all that has transpired over the past year.
Day after day, we have been confronted with death, grief, loss, instability, rage, uprisings, violence, loneliness, worry, anxiety and...occasionally...a small glimmer of hope might reveal itself to give way to a feeling akin to optimism. It's the unsettling feeling of being simultaneously suspended between something and nothing. For many, the pandemic forced changes in home or career or existential values and, just when you thought you landed somewhere solid, you lost footing again.
The Oxbow School was no exception to this unplanned sabbatical in which we were forced to shutter our doors, leaving prospective students and expectant teachers distraught in its silent wake. While the unknown burrowed its way and settled in like an unwelcome houseguest, we leaned into the discomfort with resolute determination. We designed new initiatives and made plans for a brighter future. The future: a lively community of young artists dwelling in the studios, basking in the sun on the front lawn with a good book, and sharing laughter and a delicious meal on the back deck that overlooks the Napa River.
I would like to share a poem with you, "Every day as a wide field, every page" by Naomi Shihab Nye. In the same spirit of Nye's poem, let's celebrate the moments of joy that have transcended to the surface within the Oxbow community. We are eager to invite human connectivity and creativity back into the space for which it was intended and that moment is upon us. In acknowledgment of our shared heaviness, it is fitting that we turn our attention to a more hopeful future in this edition of OxTales. We hope to see you in person one day soon!
Warm regards,
Jennifer Jordan
Head of School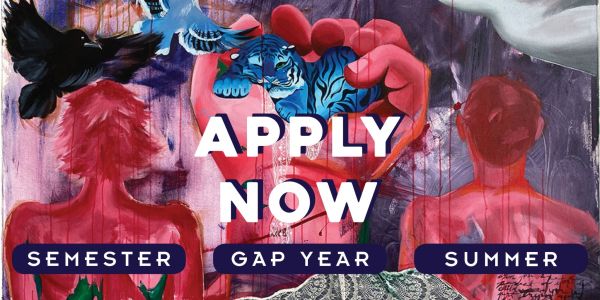 APPLY NOW!
The Oxbow School is now in rolling admissions and will continue to accept Semester and Gap applications for the Fall 2021 and Spring 2022 Semesters. We also are still accepting registrations for our NEW 8-week Oxbow Summer Art Institute for 2021!

Students interested in the Fall 2021 + Spring 2022 Semesters and/or the Summer Art Institute should try to complete all parts of their application ASAP. APPLY NOW!
NEW OXBOW SUMMER ART INSTITUTE
At the Oxbow Summer Art Institute students will have the opportunity to have the social, intellectual, and art experience that Oxbow is so well known for! Young artists are invited to immerse themselves with a customized course of creative study rooted in deep intellectual inquiry. In partnership with veteran faculty, students will create work towards an art portfolio and conclude the program with a seminal final project. This 8-week intensive is open to students in grades 10-12 as well as those taking a gap year before college.

NEW GAP SEMESTER PROGRAM
The Oxbow School is now offering a one of a kind Gap Semester! A small cohort of post-graduate students will have the opportunity to live and study at The Oxbow School. Selected students will propose and execute multi-disciplinary projects of their own design.

Email us at admissions@oxbowschool.org to request an individual virtual zoom Q&A!

The Oxbow School is now accepting registrations for Sundays in the Studios, a limited series of Spring on-campus workshops!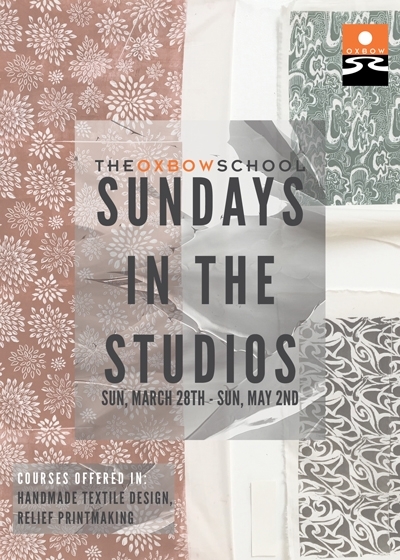 This is an exciting opportunity for Bay Area residents to have access to our well-equipped studios overlooking the Napa river. For those interested in receiving individualized art instruction, technique workshops will be led by experienced arts educator and working artist, Annie Duncan. Participating artists will have the chance to work alongside like-minded peers while working uninterrupted in a scenic location in downtown Napa. For safety reasons, space is limited. Course descriptions are listed below. Register early to reserve your spot!
Textile Design: March 28th, April 4th, April 11th
Relief Printing: April 18th, May 2nd
Cost: $250 per person/per Sunday, sign up for as many as you'd like! Membership includes technique workshops and access to the Oxbow studios from 11:00am - 6:00pm. Art supplies will be made available, but artists will be responsible for providing their own meals.
(100% net proceeds from this initiative will go to the Oxbow School Scholarship Fund)

Ages: 14+ (Bay Area Oxbow Semester and Summer alumni & families are welcome to join us!)

Time: 11:00am - 6pm each Sunday

Skill level: All levels welcome!

Space limitation: 5 artists per session

COVID-19 info: All state guidelines apply during the pandemic. Studio doors will remain open for ample air circulation. Artists must wear masks on campus, abide by a 6-foot distancing policy, and sign a liability waiver upon arriving to Oxbow's campus.
REGISTER NOW BY EMAILING ADMISSIONS@OXBOWSCHOOL.ORG

After we receive your email, we will follow up with further information. Please be sure to mention the date(s) you are interested in attending!
Oxbow Faculty Update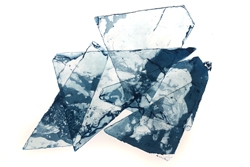 Megan Broughton
For the past several months, Megan Broughton (OS15 alum, Printmaking Instructor and Academic Dean) has focused her attention on her own art practice in the printmaking studio. The image above (and in the headline of this email) are examples of a series of prints that were inspired by a residency in the Arctic. She writes, "this print was conceived after The Arctic Circle Residency in Svalbard, Norway in June 2019; a record-breaking month for soaring temperatures. Oxbow's Environmental Science teacher, Alex Keilty, and I went as part of an ongoing effort to develop cross disciplinary curriculum. At 79.75° North, our ship was locked in, for twelve hours, by unseasonably low-latitude pack ice carried on currents disrupted by the melting Greenland ice sheet. Those hours in the midnight sun were sobering and extraordinary. In acid, copper erodes like melting ice - a natural resource, lost. The 'Pack Ice II' copperplates were repeatedly reshaped in acid, and regularly printed in states. Destroying the plates eventually erased the image and also allowed for the newly visible white paper to look like new ice. What was planned as pure destruction turned into a dynamic exchange that fueled itself in unpredictable ways." A portion of proceeds are donated to organizations working against the climate crisis.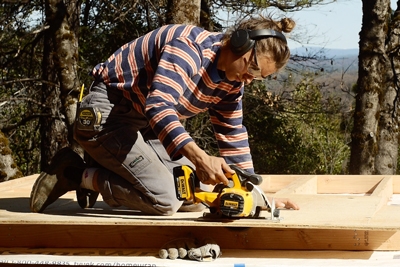 Larissa Gilbert
During the early days of the pandemic Larissa Gilbert (OS27, Humanities Instructor) spent their days building colorful sculptures, farming, and harvesting food from the Oxbow gardens to deliver to people in need. Now, Larissa is building a tiny house in Nevada City! Once complete, the tiny house will move to Santa Cruz.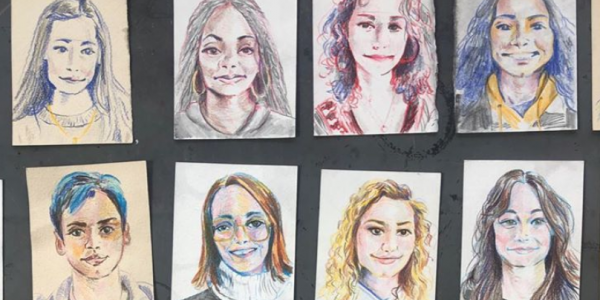 Make a difference today!
Thanks to our generous supporters, we are approximately 75% towards meeting our fundraising goal for this fiscal year. There's still time to reach our goal before June 30th. All donations given during the next few months will be reserved for scholarships going to BIPOC and LGBTQI+ applicants in need. Make a difference today!
Send us your Alumni News!
We want to hear from our alumni so submit your news online via our website. Let us know about your projects, travels, volunteer work, teaching/internship experiences, college news, exhibitions, screenings, interviews, publications, etc. Make sure we have your latest contact information so we can stay in touch.
"Oxbow also allowed me the freedom to create across all media, and introduced me to founding my work in both research and thought; a lifelong skill that has influenced my creative process for the past 4 years and all the years to come. I credit Oxbow for guiding my growth into the person I was meant to be, and have always wanted to be. Somewhere within the combination of newfound freedom, guided and open conversations on intellectualism and transcendentalism, and the absolute accessibility to make whatever one's mind can imagine, I found a stronger sense of self than I could have dreamed for." - Ella Snyder, Spring 2016
Follow us!
For weekly updates, live demos, and virtual artist lectures.